Transparency and disclosure under Regulation (EU) 2019/2088 of 27 November 2019 on sustainability‐related disclosures in the financial services sector ("SFDR")
Legal background
SFDR governs the transparency requirements regarding the integration of Sustainability Risks (as defined below) into the investment decisions, the results of the assessment of the likely impacts of Sustainability Risks on the returns of the Fund, the consideration of adverse sustainability impacts and disclosure of environmental, social and governance ("ESG") and sustainability-related information.
Fund: 2150 Urban Tech Sustainability Fund I (company no. B250973)
"Sustainability Risk" refers to an environmental, social, or governance ("ESG") factors that, if they occur, could cause an actual or a potential material negative impact on the value of the Fund's investments. Sustainability Risks can either represent a risk of their own or have an impact on other risks and may contribute significantly to risks, such as market risks, operational risks, liquidity risks or counterparty risks. The integration of Sustainability Risks is therefore crucial to generate sustainable long-term risk adjusted returns for investors and determine the Fund's strategy risks and opportunities.
Managing sustainability risks and adverse impact
At 2150 our mission and objective is to find the game-changers and sustainable investments, the Urban Tech Gigacorns, that will enable a future in which the convergence of technology and sustainability in the Urban Stack has reversed the negative impact on the planet and accelerated a positive impact on prosperity. That is why we have developed the 2150 Impact Framework to help us measure, track and report on impact metrics. Across the layers to enable, build, manage and experience the urban environment, we seek investments that satisfy our Impact Principles, listed below: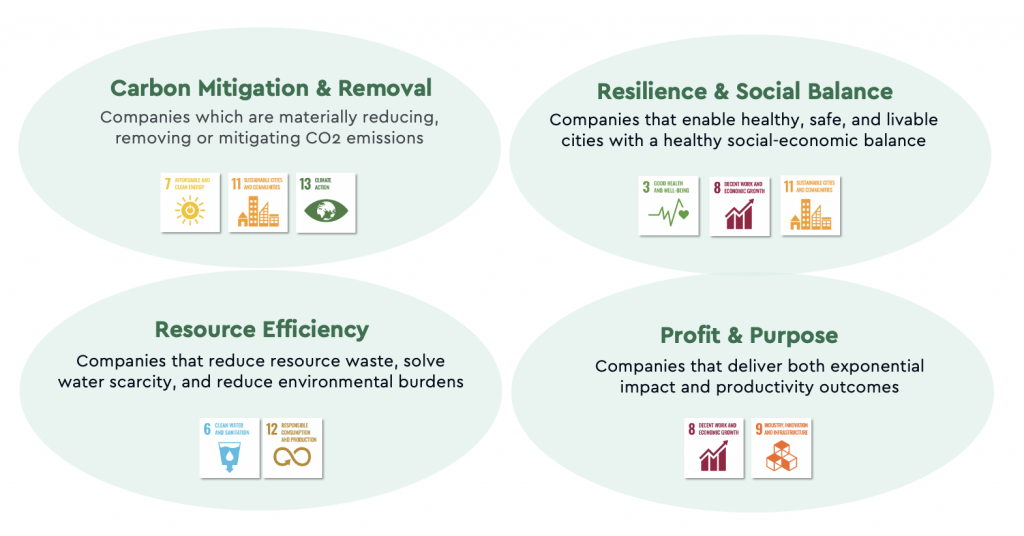 For each of these principles we will measure and track a variety of KPIs at both a company and portfolio level, for example millions of tons of CO2 equivalent reduced or mitigated, millions of tons of waste saved or reused, millions of citizens' lives extended, millions of litres of water reused or saved, increase in number of people with access to clean water, increase in number of people with access to affordable homes. This will be shared with our investors on a regular basis in a dedicated sustainability section together with the standard financial reporting.
Operational approach to managing sustainability risks and adverse impact indicators.
2150 integrates sustainability risks throughout its investment decision making process, from problem- identification and deal sourcing, through due diligence and until a company has been exited. Therefore, it is a central piece of the decision-making process and managing investments in the 2150 Urban Tech Sustainability Fund I. Throughout this process 2150 considers the principal adverse impacts indicators set out in Table 1 of Annex 1 and 1 additional indicator from each of table 2 and 3 of Annex I of Commission's delegated regulation supplementing Regulation (EU) 2019/2088 (the Sustainable Finance Disclosure Regulation) of its investment decisions. Information on principal adverse impacts on sustainability factors will be available in 2150's annual reports.
During the due diligence and follow-up/monitoring process 2150 reviews the principal adverse sustainable impact indicators and the sustainability risks across the indicators for environmental, social and governance, which ends up in an "impact score" before 2150 decides to complete an investment:
Problem identification: Actively pursuing problems, which if solved, would have positive sustainable impact.
Deal sourcing: De-selecting potential areas with high risk of adverse sustainability impacts.
Initial review: Review of investments with respect to adverse sustainable impact.
Due Diligence: Detailed due diligence clarifying any potential adverse sustainable impact to best endeavors.
Investment: Pro-active approach to including sustainability targets in business plan & terms sheets
Monitoring & value-add: Continued risk monitoring of potential adverse sustainable impact.
Exit: Ensuring acquirers have the intention to continue considering adverse sustainable impact
Specifically, as part of the Due Diligence step the 2150 team conducts a review of the following:
Validate that mission driven founders and team culture are aligned with 2150 Ethos
Underwrite future potential impact incl. measurable trajectory and targets
Confirm founder/company alignment with 2150 impact principles
Complete detailed sustainability due diligence
Assess alignment with co-investors on impact principles
Integrate "impact score" in overall diligence summary
Hence, throughout the whole investment process 2150 integrates and evaluates the principal adverse impact indicators as part of taking decisions on investments to best of its knowledge and endeavors. The reviews, sources and methodologies for those evaluations are based on available online available information, due diligence material for the investments and operational reporting from the portfolio companies. The aim is to ensure high data quality and unbiased processing of data.
Actively working with portfolio companies on sustainability
2150 actively supports and encourages portfolio companies to integrate sustainability at its core of the business model, products, operations or ensure that the secondary effects of the company's existence reduces the risk of principle adverse sustainable impact and promotes sustainable objectives. This can either be via the regular discussion with founders, management, or participation in the board meetings, and in some instances, by offering either the resources from 2150 or engage external experts. Examples of this could be that 2150 encourages portfolio companies to follow the UN Global Compact and UN Guiding Principles on Business and Human Rights, OECD Guidelines for Multinational Enterprises and the UN Guiding Principles on Business and Human Rights (ILO).
Other disclosures and related policies
The Fund is anticipating that at least 50% of the investments will be invested into companies that meet sustainable investment criteria, and the remuneration policies with investors are structured so that these do not encourage excessive risk-taking with respect to sustainability risks and reflects risk-adjusted performance. Fund Manager has looked at the sustainability risks likely to have an impact on the returns of the Fund, and Fund Managers believes there is a low to minimal risk to the returns due to those sustainability risks. 2150 has implemented a Diversity Policy and a Sustainability Policy in addition to relying on the AIFMs standard policies for e.g., Anti-Bribery and Corruption Policy.
Carbon-positive fund
2150 is part of the Leadership for Climate Action to promote the adoption of increased focus on sustainability in Venture Capital  and has an overall positive carbon footprint as 2150 has acquired 100 tons of CO2 offsets covering both team members and the fund. 2150 has an ambition, not fixed goal, of finding several Gigacorns, which can help the transition towards a resilient planet in line with The Paris Agreement.
2150 Sustainability officer
For more information please contact our Sustainability Officer Christian Jølck.